Business
We've got the best meeting rooms in Amsterdam to get inspired.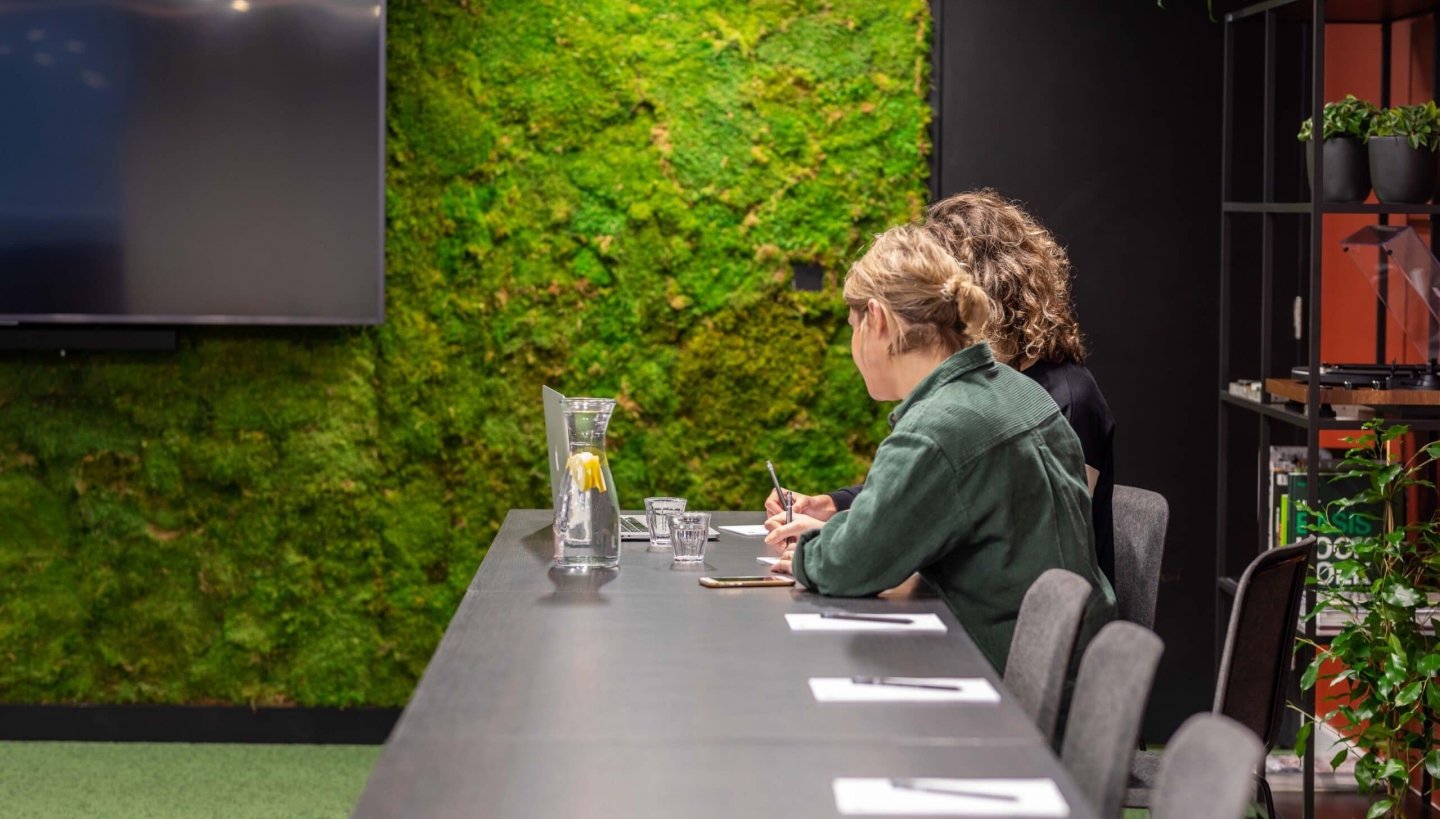 Looking for an inspiring
meeting room in Amsterdam?
We've got what you're looking for. We offer two sustainable rooms close to Vondelpark! To make things easier for you, you can meet, eat, sleep and park all under one roof.
Fun fact; we plant a tree with every direct booking. So book your meeting room here directly via our website and contribute to a greener planet! Just give us a ring or fill out the form.
Call us +31 (0)20 820 3333
Just give us a ring to discuss the possibilities. We're available everyday from 09:00 – 17:00. Speak soon!
Amsterdam City
The Wubbo
This sustainable, green meeting room is located near Vondelpark and the A10 highway. The room is part of Conscious Hotel Amsterdam City. This playful and inspiring space is perfect for workshops, launches or team-building activities for up to 20 persons. With a gigantic white wall to write on, a moss and cork wall and even a chill-zone, this is the perfect space for some brainstorming action! Time for a break? Enjoy coffee with treats from hotspot Sticky Fingers and lunch from Café Moer. We've even got a pantry full of organic beverages and coffee to keep you energised throughout the day. Let's get some work done!
Details
Wi-Fi.

Maximum capacity 20 people.

82 m2.

High-tech projector and big presentation screen.

Audio equipment.

55 "LED TV for smaller meeting.

Magnetic whiteboard wall to make the magic happen.

VIP (paid) parking garage.
Amsterdam City
The Studio
This eco-sexy meeting room is located at Conscious Hotel Amsterdam City, near to the Vondelpark and the A10 highway. It's got a private parking garage for V.I.P.'s like you. We offer different settings for up to 26 persons. There's a separated chill-out zone, so you can unwind in between sessions. You can present on the LED TV, but we've also got blackboards or large sheets of paper for those who like it old-school. Feeling thirsty from all that hard work? Enjoy an energising coffee or organic drink from your very own fridge. Need to blow off some steam? Challenge your colleague to a game of 4-in-a-row, or go for a walk in the park. Get inspired!
Details
Wi-Fi.

88 m2, of which 23 m3 kitchen.

Maximum capacity 26 people.

4K 85 inch LED TV; connection via Apple TV + Google Chromecast + HDMI connection.

TV with extra speakers.

Coffee, tea and water in the room.

Cosy room with moss wall lounge chairs and record player.

Entertainment with a large 4-in-a-row game.

Write everything down on the 2 blackboards or 2 paper rolls that you can use as a flip over.

Your own pantry with espresso machine and fridge.

VIP (paid) parking garage.
Download the brochure
Take a look at all of our meeting rooms, events locations, restaurants and bars. Including details and rates. You're always welcome for a tour if you want to see our locations first.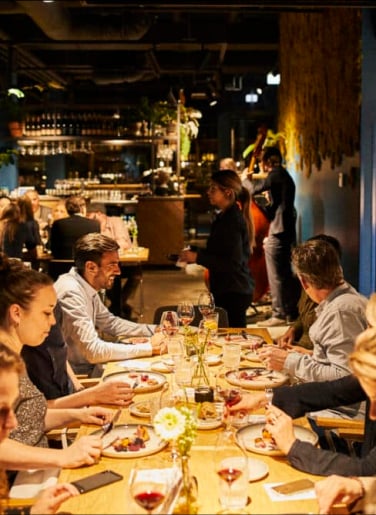 We accommodate groups of all sorts and sizes at all of our locations.
Group bookings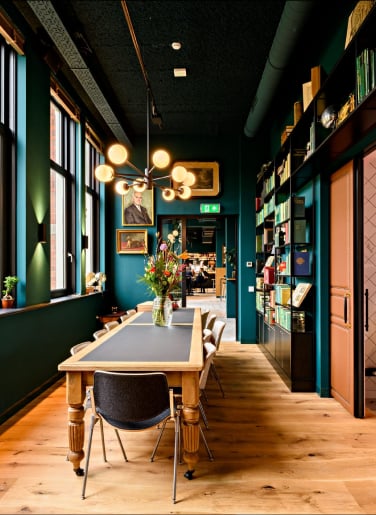 Dining in private with your friends, family, or colleagues? Say no more
Group bookings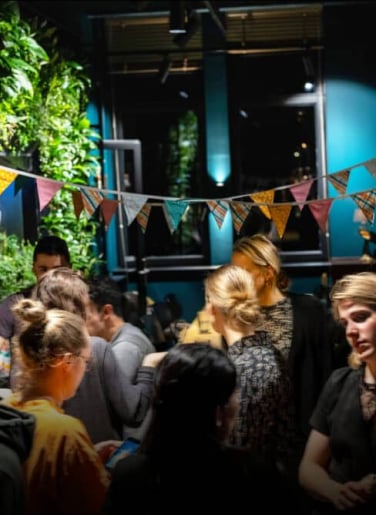 Looking for a sustainable location for your meeting or event? We've got you covered.
Group bookings
Let's keep in
touch
Let's keep in
touch
Don't want to miss out on what's happening, offers, sustainability and other cool stuff? Neither do we, and we love to keep you up to date. Let's stay in touch, and we'll make sure you receive a dose of awesomeness and insider tips right in your inbox